Putting together a wedding planning binder can be a great way to keep all of the ideas you have gathered in one spot where you can easily find them. If you set it up efficiently, it can make it really easy to plan out your guest lists, seating chart, and so much more.
Here's how I set up my wedding binder. I hope these tips help you as much as they helped me.
How to Make a Wedding Planning Binder: Your Easy Step-by-Step Guide
As some of you may know, I've been engaged for just over a year now, and the big day is only about five months away! Since I have time off of school, I have restarted my wedding planning with gusto – so much to do, so little time!
I was clicking around various websites, reminding myself what all needs to be done in the next few months (short story: a lot!) and stumbled across the blog Just Lovely, where one of the posts details how to make yourself a wonderful binder organizer. I already had a binder on the go, but it did need a little sprucing up and organizing for quicker reference, plus the post had some great resources in it. It inspired me to do my own post detailing all of the resources I've pulled together and adapted for my own wedding, plus take a little stroll through my beautiful binder.
WE NOW HAVE A WEDDING PLANNING BINDER PDF PRINTABLE FOR YOU! SIGN UP FOR OUR EMAILS AND DOWNLOAD IT FOR FREE HERE: wedding planning binder
So here you go, how to create a wedding planning binder in four easy steps!
Step 1: Get yourself a super cute binder.
If you've already picked out your wedding colours and/or theme, you'll probably want something that matches. Classic white is always an option, or just anything that suits your personality and style. I found this super cute butterfly binder that has the purples of my wedding and the pretty flowers that I want everywhere on the big day.
You'll probably want something fairly thick – for me, a skinny binder is almost never useful. Mine is 1.5" and I couldn't imagine it any smaller!
Now, the one thing that really bugs me (though I sucked it up because it was just too cute!) is that the rings are attached to the spine of the binder. In general, I much prefer when the rings are attached to the back cover. When you have the rings on the spine, sometimes the papers at the very back get a little squished and bent out of shape. When the rings are attached to the back cover, however, they're not getting slid around every time you open and close the binder.
Step 2: Get dividers.
You can see the blue-edged page protector sticking out from
beneath the title page, marking the beginning of the first section.
Mine didn't have dividers because…well, I just didn't have any on hand. Plus I'm using page protectors, and sometimes it's really difficult to find the extra wide dividers so you can see the tabs. So instead, I have page protectors that are coloured on the edge that mark the beginning of a new section. So far that's been working pretty much just as well for me.
Right now, my binder is arranged as follows (I tried to arrange it more or less in chronological order):
Important:

Venue Info
Timeline Checklist
Guest List
Attendants' Info
Maid of Honour and Best Man Duties Checklist
Assignments List (Who Does What)
Planning Guide, Customs & Traditions
Budget Planner
Engagement Ring Insurance Info
Recommended Vendors
Vendor and Details Info
Music Checklist
Photography Lists
Day-Of Checklist and Emergency Kit List
Day-Of Schedule

Attire:

Wedding Dresses
Bridesmaid Dresses
Veil
Accessories
Jewelry

Beauty:

Exercise
Skin
Hair
Makeup
Perfume

Registry:

Registries Info
Checklist
China Pattern

Stationery:

Checklist
Wording/Etiquette Guide

Bridal Shower:

Planning Info
Guest List/Gift Trackers

Rehearsal:

Timeline
Checklist

Ceremony:

Officiant Info
Ceremony Text
Processional and Recessional List
Readings
Music
Program
Seating Arrangement

Reception:

Timeline
Rentals
Seating Plan
Menu
Cake and Cake Topper
Beverage Lists
Toast List
Favours
Music

Décor:

Sketches of Venue and Placement of Décor
Flower Planner and Flower Meanings
Centerpieces
Escort Cards, Table Numbers, Place Cards
Guest Book
Other Décor: Aisle Runner, Card Box, etc.
Inspiration (for example, I've tucked some tissue paper in there that perfectly matches my colour scheme and overall style)

Honeymoon:

Planning Details/To Do List
Travel Arrangements
Packing List
Step 3: Google wedding planning worksheets/checklists.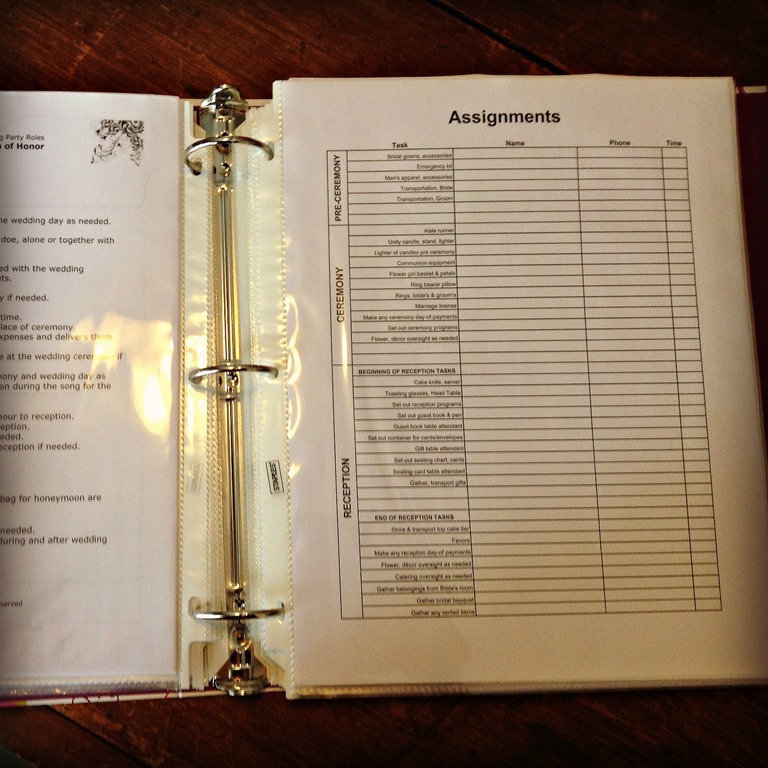 The best part of the binder is all the checklists!
The best part of any wedding planning book, be it the kind you make for yourself or the binders you can buy pre-made (which I was scared of buying because there might be sections that aren't even applicable, and I'm a control freak), are all the checklists and worksheets onto which you can put all of your vital planning information!
There are many, many, many online sources of worksheets, plus loads you can find and adapt from books (sit in your local bookstore/library with a coffee and do your research – it's fun!). Here are the websites I found that you may find useful:
This post from A Practical Wedding is another great resource for getting organized that I stumbled upon in my Google journeys.
Step 4: Add and remove from binder as needed.
I've stuck my seating plan in there, next to a blank worksheet I can use for
arranging the guest list into their tables.
Now, I've taken several of these checklists and planning guides, combined and adapted them for my own purposes, and eventually created my own versions of these checklists that better suit my needs. (I'll be posting these checklists as they finally become complete. The timeline checklist should be up any time now.)
Basically what you want to do is work through the worksheets and checklists, add in final details and print-out copies of things like the ceremony script, remove anything you don't need anymore or that turns out to be not applicable, and just get on with the awesome planning of your awesome wedding. My binder originally existed as essentially a lookbook – pictures I had been ripping out of magazines for years, long before I was even engaged – and just helped me start figuring out what I wanted the final picture to be. I'm keeping the ripped-out-magazine-pictures of wedding dresses and bridesmaid dresses, even though those are already picked out (and none of them were amongst my magazine picture stash), purely for posterity and the off-chance/hope that my future children may want to see the binder I put together planning Mommy and Daddy's wedding.
Here is the tissue paper I've stuck in there. It just perfectly reflects the colour
and style of my wedding!
Voila! Your wedding planning binder is ready to get you to that finish line! Now just sit back, relax, and watch as your wedding unfolds. Make sure your MOH or another trusted friend is aware of everything in the binder, and then as of the rehearsal, you can hand over the reins and trust that everything will go off without a hitch.