Hello!  Here we are back again with another fun craft!  This time we are taking part in Craft Lightning: Camp Craft edition– the idea of Craft Lightning creations is that they can be made in 15 minutes or less.  When Sam was little, she wanted the "camp experience" but for a while, she was too shy and nervous to actually go.  So, to give her a taste of it (and hopefully warm her up to the real thing!), I introduced Camp Mom.  I'd schedule a week filled with fun activities including eating camp food like foil packet dinners and S'mores, going on field trips, taking part in crafts (at home and at the library), daily swim time, and so on.  Here's a fun "camp craft" to get the kids outside enjoying the summer weather AND getting creative.  Make a Nature Mobile using items the kids have gathered up for themselves outside!
To extend the experience, you can have them hunt for supplies one day and then make the mobiles the next.  Rainy day?  Make it an indoor scavenger hunt! Now, before you send the kids out looking for items to use in this mobile, it's important to have a quick safety and respect conversation with them.  They need to know what's safe to touch and what isn't (for example, sharp objects and poison ivy).  They need to know never to take anything off a living plant or from an animal's home. If you're doing this somewhere other than your own property, you need to also take into consideration the rules of that property.  Some beaches and parks, for example, have strict rules about removing any items whatsoever.  If you'd rather avoid such issues, you can always forget the nature focus and pick up some supplies at the dollar store instead – things like buttons and beads, pompoms, feathers, even pendants!  You can see in the picture above, that I've used a combination of items collected from outside and those found at the store.
I'm using simple craft wire that's really easy to bend and cuts with no effort with scissors but for little ones, chenille stems often work better.  Make a circle out of several strands of wire and then create a cross bar with more wire to add stability.  I used wire as the hanger too but you can use fishing line instead if you prefer.  Simply secure the items on pieces of wire by criss-crossing and twisting the wire around and then attach each of the wired items to hang down from the circle foundation you made.  This can be a fun lesson in how balance works for kids too as they will need to balance the weight and lengths of wire on their mobile to get it to hang straight.  Super quick, super easy, super fun!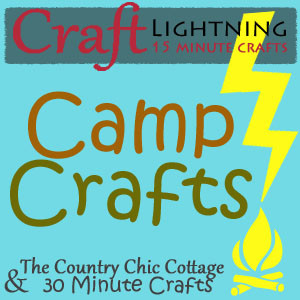 Looking for more camp craft fun for the kids?  Be sure to click on the button above and check out the other creative ideas in this round of Craft Lightning!