Playing with play dough in the bathtub? Yes! This soothing bath play dough is a lot of fun and really easy to make.
The sensory play with the play dough containing lavender essential oil will create for a relaxing bath before bedtime or use it on a tough day when the kids need something to help them soothe their big feelings.
Soothing Bath Play Dough for Kids
Supplies: 
1 cup baking soda
1 cup water
½ cup oatmeal
½ cup corn starch
¼ cup kid's bath soap (I used Honest Company)
8 drops lavender essential oil 
1 teaspoon purple mica powder
Directions:
Pour the water into the oatmeal. Let the oatmeal soak for 15 minutes, then strain. 
Combine the mica powder with the baking soda. Mix until it is the color you desire. You might need to add more mica powder, depending on how strong you want the color. 
Mix the baking soda, oatmeal water, corn starch and kid's bath soap together. Mix thoroughly.
Add 8 drops of lavender essential oil and mix to combine. 
Microwave for 30 second intervals, for a total of two minutes. Stir in between. If the mixture is still sticky after 2 minutes, continue until it is not sticky. Let sit for about 10 minutes or until it cools down. 
Start kneading the dough until it becomes soft. It won't be as soft as normal playdough, but it shouldn't crumble completely. 
To Use:
Let your kids play with it during bath time. As we said before, it's soothing sensory play and the oatmeal water will create a nice bath for those with sensitive skin too!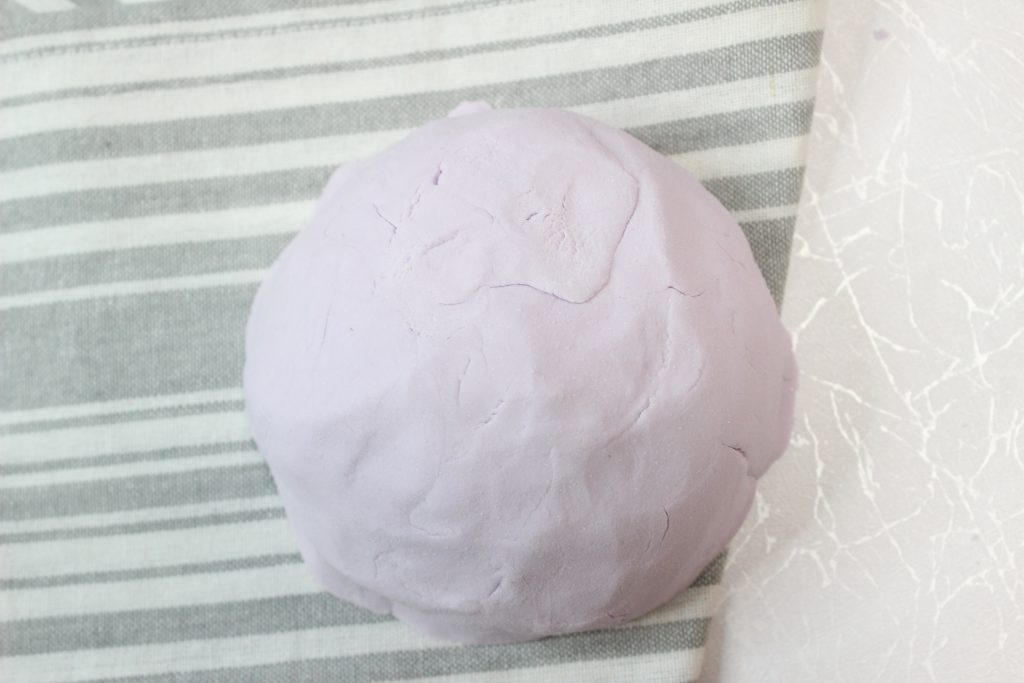 Notes:
This is a one-time use bath playdough. You do not want to save it when your kids are finished as it get moldy. 
You can substitute bath soap for bubble bath for more fun!
You do not have to do the oatmeal water, but this is extra soothing for your little one's skin. 
You also do not have to use essential oil. The lavender scent is very calming but if your child is very young or sensitive to these oils, you can skip it. If you substitute a different oil, be sure to research it thoroughly to ensure that it is safe for children.